Teaser Tuesdays is a fun meme hosted by MizB at
Should Be Reading
. To participate, grab the book you're currently reading, open to a random page and share a few sentences (no spoilers!)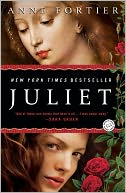 This week I'm reading
Juliet
by Anne Fortier. The story is a great mix of history, mystery and romance and I'm anxious to leave work and get back to reading! From page 23:
"The memory of Aunt Rose sitting next to me and in her own sweet way telling me to get a life sent another pang through my heart. Staring glumly through the greasy little airplane window into the void outside, I found myself wondering if perhaps this whole trip was meant as some kind of punishment for how I had treated her."
What are you reading this week?