If you're a fan of inspirational fiction and you own a Kindle, here are some great books Amazon currently has for FREE! I'm not sure how long the promotions last, but as of Tuesday night these were all no cost (summaries below from goodreads).
The Choice (Lancaster County Secrets, Book 1) by Suzanne Woods Fisher
With a vibrant, fresh style Suzanne Woods Fisher brings readers into the world of a young Amish woman torn between following the man she loves--or joining the community of faith that sustains her, even as she questions some of the decisions of her elders. Her choice begins a torrent of change for her and her family, including a marriage of convenience to silent Daniel Miller. Both bring broken hearts into their arrangement--and secrets that have been held too long. Filled with gentle romance,
The Choice
opens the world of the Amish--their strong communities, their simple life, and their willingness to put each other first. Combined with Fisher's exceptional gift for character development, this novel, the first in a series, is a welcome reminder that it is never too late to find your way back to God.
The Malacca Conspiracy by Don Brown
Set in Singapore, Indonesia, Malaysia, and the United States,
The Malacca Conspiracy
is a bone-chilling tale of terrorism on the high seas, of political assassination and nuclear brinkmanship. And for Zack and Diane---your favorite JAG characters from Don Brown's popular Navy Justice Series---a story of hope for a longstanding romance that is now or never. When a dastardly plot is hatched in the Malaysian seaport of Malacca to attack civilian oil tankers at sea, to drive up the price of crude oil futures, and to assassinate the Indonesian president and use fat windfall profits to finance a nuclear attack against American cities, Navy JAG officers Zack Brewer and Diane Cocernian reunite in a sizzling race against the clock to foil the conspiracy before disaster strikes. But as President Mack Williams sends ships of the U.S. Seventh Fleet towards the Malacca Straights to reassert control over the sea lanes, will Navy JAG officers Zack Brewer and Diane Colcernian survive this dangerous and final high-stakes drama of life and death? You won't be able to put this thriller down until you find out.
Mozart's Sister by Nancy Moser
Nannerl Mozart's early days seem to be the stuff of fairy tales--traveling far and wide, performing piano concerts with her younger brother, Wolfgang, before the crowned heads of Europe. But behind the glamour lurk dark difficulties--the hardship of travel, agonizing bouts of illness, and the constant concern over money. Their father, Leopold, is driven by a desire to bring his son's genius to the attention of the world. But what about Nannerl? Is she not just as talented? In a world where women's choices are limited, what hope does she have of ever realizing her own dreams? In this lovingly crafted novel, author Nancy Moser brings to life one of history's hidden heroines.
Naomi and Her Daughters by Walter Wangerin, Jr.
Master storyteller Walter Wangerin Jr. pens the historically accurate biblical tale of Naomi and Ruth in this riveting novel. Contemporary echoes of love, deceit, war, and political instability will resonate with readers today, while rich descriptions and gritty realism cast new light on the ancient narrative. A powerful story that you won't soon forget!
The Lord is My Shepherd (Psalm 23 Mysteries) by Debbie Viguie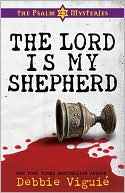 Cindy's church is getting ready to celebrate Easter, and Jeremiah's temple is preparing for Passover when Cindy literally stumbles over the body of an unknown man lying dead in the sanctuary. The church was locked, and a bloody cross necklace on the floor seems to be the only clue. The killer is likely a member of the congregation, but there are hints that similar deaths have happened in the past. Are Cindy and Jeremiah dealing with a serial killer? They have to unravel the clues before Easter Sunday arrives and more people die.
Happy reading!