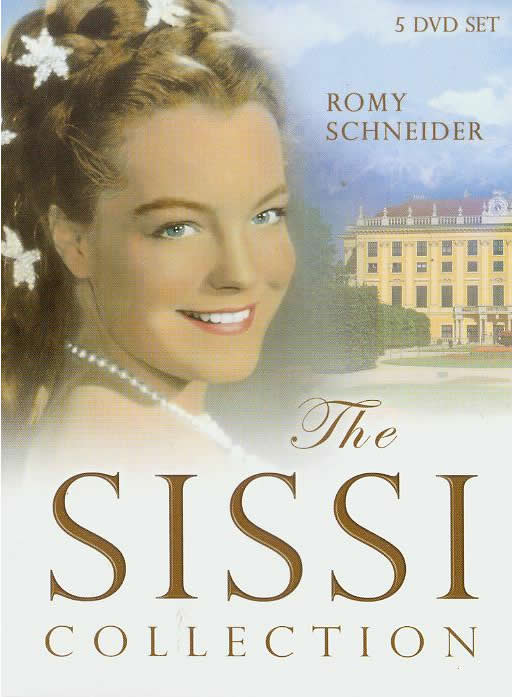 I recently came across a 1955-57 period drama trilogy that is available to watch instantly on Netflix, called
Sissi
,
Sissi: The Young Empress
and
Sissi: Fateful Years of the Empress
. I'm a sucker for anything historical and the synopsis and cover looked really interesting, so I decided to give the first one a try. Though the tag Foreign should have given it away, I was surprised to realize that the movie was in German (thank goodness English subtitles are included!) However, I was quickly sucked into this very loose retelling of the life of Elisabeth of Bavaria-- called Sissi by family and friends-- who would become Empress of Austria and Queen of Hungary in the late 19th century.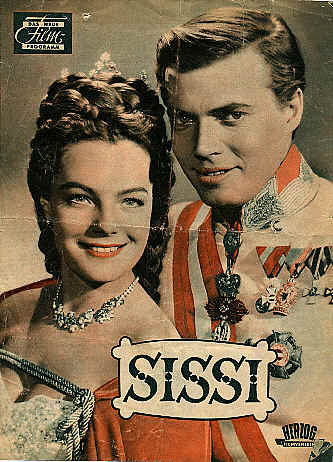 In the first movie, we meet Sissi and her family, including her friendly and slightly roguish father Duke Maximilian and her lovable and harried mother Princess Ludovika. Sissi accompanies her mother and older sister Helene, called Nene, to Vienna, where she has a chance meeting with her cousin Franz Josef, the Emperor of Austria. Franz is instantly smitten, not realizing that his domineering mother, the Archduchess Sophie, has already arranged for him to marry Nene. Though Sissi is reluctant to take on the demanding role of empress, she loves Franz and he persuades her that he would be unable to rule without her. The movie ends with their wedding (after Franz basically announces their engagement without her consent) and Sissi becoming Empress of Austria.
Franz and Sissi meet cute on an Austrian mountain
Franz giving roses to Sissi instead of Nene (left)
In the second film,
Sissi: The Young Empress
, Sissi is homesick for Bavaria and without her husband most of the day due to his state duties. She also is faced with learning the extremely rigid and convoluted court etiquette and the languages of all of Austria's principalities. Her free-spirited ways clash with her aunt/mother-in-law who rules with an iron fist, and her husband is mostly content to follow his mother's orders.When the couple's first child is born and the Archduchess takes over the raising of the child without Sissi's consent, she flees the palace, but is reunited with Franz later after he realizes he's mistaken and comes after her. Her dedication to and support of the Hungarian people leads to the emperor and empress being crowned King and Queen of Hungary at the end of the film.
The Emperor, Empress and Archduchess
The final installment begins with Sissi and her daughter in Hungary, trying to broker peace between Austria and a few remaining Hungarian rebels. When Count Andrassy, a young Hungarian nobleman who has become Sissi's friend and advisor, confesses he's in love with her, she realizes she must leave the country. Meanwhile, back in Vienna, Franz is fending off his mother's not-so-subtle hints that Sissi and Andrassy are having an affair and learning that Nene is still not over him two years after their broken engagement. Luckily Franz begins to grow a backbone in this film and challenge his mother's "duty over love" mentality. Franz and Sissi are reunited, but it soon becomes apparent she is not well, and she travels to Madeira as a last ditch effort to heal from a lung ailment. The movie ends with a dramatic and touching reunion between Sissi and daughter in Venice, where her love and goodness wins over the people of Italy.
Portrait of the real life Sissi by Franz Xaver Winterhalter
If you have a few hours to kill on a rainy afternoon, I would suggest these films as a great option. Are they a little schmaltzy and overdramatic? Definitely. But they're also interesting--though not entirely factual-- period pieces that come complete with stunning images of the Austrian countryside, beautiful costumes and a lovable heroine. Romy Schneider is gorgeous as Sissi (I was extremely envious of her beautiful hair and tiny waistline) and Karlheinz Bohm is an appealing (if sometimes slightly wimpy) hero. The films also made me more interested in the real-life story of Elisabeth, which unfortunately did not end as happily as the film suggests. According to historical reports, the real Sissi had an unhappy and unfaithful marriage and kept herself on a strict diet to maintain a 20 inch waistline, and she also was assassinated by an anarchist in 1898. I think I prefer the movie ending better!
Source: Netflix instant streaming